Gas & Water Leak Detection
Gas and water leaks are one of the most frequent forms of plumbing problems encountered in Australia. While they might seem like a relatively simple issue, if not fixed quickly and properly, they tend to cause even greater problems.
If you notice any of these signs, you probably need our gas and water leaks repair services
Dampness or discolouration of carpet or rug
Strange patterns appearing on the ceiling or walls
Hissing sounds coming from the walls
Smell of gas even when there should be none
Signs of gas or water where there should be none
Poor water or gas pressure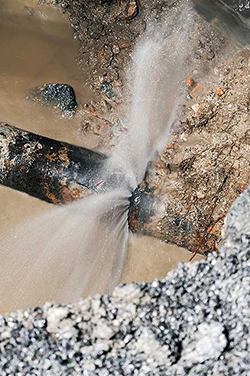 Why Choose Our Gas And Water Leaks Repair Services
We use state-of-the-art equipment for the precise detection of water and gas leakage.
Our gas and water leaks repair services are carried out by certified and experienced plumbers all of whom are well equipped for the fixing of any and every form of gas and water leaks you might need to be fixed.
We guarantee your satisfaction. At Ken Hale Plumbing, our job is not done until you are satisfied with it.
We fix gas and water leaks by carrying out the following operations
Diagnostics


With the aid of state-of-the-art equipment, our expert technicians investigate the problem.

Leakage detection


Once it is confirmed that the cause of the problem is leakage, our plumbers get to work using our state-of-the-art detection equipment to locate the exact source of the leakage.
Solution drafting
Our expert plumbers then draft the most appropriate solution for fixing the leak taking into account your building and plumbing system. This solution is passed on to the client for approval.

Execution of solution


Once the solution is approved by the client, we then execute the solution.

Confirmation


Once everything else is done, we finally check to see that everything is working fine.